Lanam Trahemus!
(pronounced: la num tra hey moos)
which means, in Latin...
"We Spin Wool!"
Hand Turned Drop Spindles

And all the women that were wise hearted did spin with their hands, and brought that which they had spun, both of blue, and of purple, and of scarlet, and of fine linen. Exodus 35:25
(Doing all I can to help the women to be wise

)
by JBG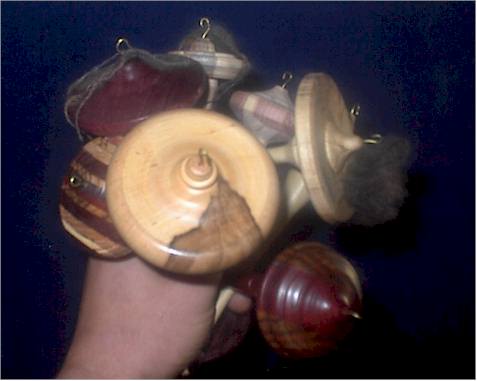 John Gunther has been making spindles for several years, and is just now going public...He made his debut at the Great Lakes Fiber Show, in Wooster, Ohio this past May, and has been keeping busy since...:-)
Motivated by his spinning sisters, and inspired by Jim Childs of Hatchtown Farms,
He presents here his offerings for your spindling pleasure....

While many of the following spindles are sold, John assures me that he can reproduce any of them in your choice of hardwoods...most are turned from one piece of wood....

His sisters, the "picky spinsisters", ;-) assure me
that they all spin really well...
and balance and drive test each one individually....

Most of the pictures are not the best,
and we haven't got names for all of them yet,
(you're welcome to make suggestions, or tell us your favorites! )

John would love to make a totally unique spindle,
just for you!
so....
if you see something you like, and want to combine it with a
feature from another spindle, feel free to specify your preference...

Turn around time will probably be a few weeks,
unless we have the one you want...
but at this point, we're not near as backed up as Hatchtown... ;-)
Prices for hardwoods range from $25 - $35, the exotics from $32 - $42
plus shipping and handling...
some exotics may be more based on the price of the wood...
write to John for a specific price at:
johnbrian at lambzown.com
to prevent spam, this is no longer a clickable link,
just substitute the @ symbol for the word at above
and run it all together.
sorry for the inconvenience...
weights and measurements are also available....
we'll try to get them up on the page soon

check out the spindles on the pages listed below...
Thanks for visiting! :-)